Saturday, August 15th, 2015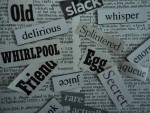 I began using an online dictionary a few years ago—not because I found it more convenient than a paper dictionary, but because my old Webster's is just too distracting. I would open it up, intending to look up "phaeton," and right next to it I'd see "phage," which has nothing to do with "phaeton" but is an interesting word in itself, as is "phatic" on the opposite page. Having also glanced at "phalanstery," "petrous," and "petroleum jelly," I would end up acquiring some interesting bits of assorted information but forgetting which word I'd meant to look up in the first place.
So, yes, I'm easily amused as well as easily distracted. But modern dictionaries are really just the beginning. Besides the words currently in use—400 thousand or so—there are many that have fallen by the wayside. In Forgotten English, Jeffrey Kacirk collects archaic words that are odd, fascinating, and sometimes hilarious. If you've read any literature from before the 20th century you may have encountered words like "ferule" or "press-gang." But others are intriguingly obscure: "galligaskin," "sockdolager," "fulluht."
The thing about Forgotten English is that it's both a collection of words and a rambling, whimsical history book. In many cases it's not just the words that have been forgotten, but the things they refer to: occupations, practices or beliefs that no longer exist. "Purl-men," for instance, were itinerant beer-sellers "who plied their trade on the Thames and other navigable waterways of southern England,"  and a "bee-master" was one who "tended hives and performed the essential task of informing an estate's bees of important household events." So each entry is at least a paragraph, up to a page and a half long, often incorporating literary excerpts that enlarge on the definitions.  It's fascinating, and it also makes me wonder which of our current practices and their corresponding words will go extinct over the next century or so.