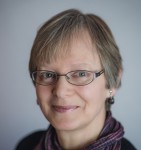 I'm a poet with interests in books, music, and art. I have lived in Manitoba for twenty years now, but still think of myself as being from Saskatchewan. My first full-length poetry collection, Eigenheim (Turnstone Press), was published in 2015; my second, Cattail Skyline (Turnstone Press), in 2021.
I've also published two poetry chapbooks: Crossings, self-published in 2012, and Nothing But Time, part of the Summer Kitchen Series with Seven Kitchens Press, 2020. My poems have also appeared in Canadian literary journals, most recently in Canadian Literature, Prairie Fire, and The New Quarterly.
For the past several years, Sally Ito, Sarah Klassen and I have been translating the poetry of the 17th-century Austrian writer Catharina Regina von Greiffenberg. You can read about Greiffenberg and see some of our work here.
Besides writing, I play the organ and have sung in choirs since I was eight years old. Lately I've been learning a bit about letterpress printing, and am thoroughly enjoying that. And, whether at home or travelling, I am fond of photographing wildflowers.