Thursday, April 28th, 2016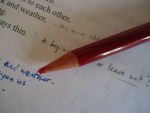 1. I like to think that I am generally good at keeping up routines, but apparently I'm not good at the routine of keeping up a blog.
This is the least interesting of the three.
2. Sometimes, looking at the big picture doesn't help.
Writing was not going terribly well the last little while—and by "writing" I mean poetry. Over the past few months I've written book reviews, an article, and an online interview, but have had trouble focusing on poetry. Thinking that a bit more structure might help, I decided to get deliberate about setting up a routine. I settled down on a Monday afternoon, went through the magazine file on the desk and pulled out a stack of poems that need revising. There are quite a lot; the file box was bulging. I read through all of them, and that was where the trouble started: I couldn't decide which one to start with. I just stared at each one in turn and thought, "I don't know what to do with this." After beginning with high hopes, or moderate hopes anyway, I ended up having a frustrating and unproductive afternoon.