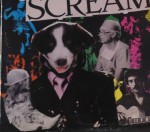 You never know what you'll encounter at Winnipeg's New Music Festival, and this year the festival organizers incorporated visual art in some unexpected ways. For instance, in the lobby there was a table where concert-goers could sit down and make a collage. There was a bin full of old record album covers and drawers full of materials to cut up—magazines like Woman's Weekly, National Geographic and Rolling Stone, and even coffee-table books. You'd choose an album cover, cut out pictures or text, and go to it with a glue stick. Then you could mount the finished collage on one of the poles sticking up from the centre of the table, with the magnets provided.
Others clearly found this as much fun as I did, because at intermission the benches around the table were full of people cutting and pasting. And really, what's not to like? It's the same thing we did in kindergarten, only now that we're grown up it changes from activity to art. Although I make no claims for my own creation, a lot of them were really interesting and inventive.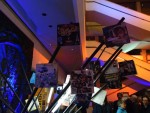 This is what the display looked like on the second night of the festival—it got better and better as the week went on.
The table, benches and display poles together make up an interactive sculpture called The Collage Party Pavilion, conceived by Winnipeg artist Paul Butler and designed by Craig Alun Smith. It's made to accommodate The Collage Party, described on Butler's web site as "a nomadic, collective studio where [he] invites the public to collage along side each other in a social setting." Since 1997, he's staged The Collage Party in several countries, in a wide range of venues. I find it intriguing because it stretches the idea of what art is and what an artist does: it's both a work of art and a way to make space for art-making to grow.