I've been roaming through this old anthology, published in the 1920s and entitled, with great simplicity, The Canadian Poetry Book. Without even looking at the preface or the endnotes you can tell it's a school text. The names of Doris Morgan and her sisters from Lucky Lake, Saskatchewan are written on the cover and flyleaf. One of them, clearly bored stiff, wrote her name several times and copied out all the information on the title page. Inside, you can tell exactly which poems the girls studied by the notes written on them in turquoise ink.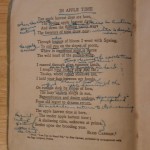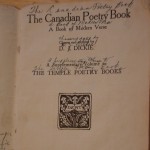 This poetry is from the 19th and early 20th centuries— fairly old in terms of Canadian literature. The poets represented here have largely gone out of fashion, and some, I suspect, have been pretty well forgotten. Canadians who went to school in the 1940s and '50s, maybe even into the '70s, will know Bliss Carman, William Henry Drummond, E. Pauline Johnson, and Archibald Lampman, but does anyone study them now? And how many today know the names Ethelwyn Wetherald or John Hunter-Duvar?
Anthologies can be a mixed bag, of course. Not every poem in this book is a gem (there's an especially forgettable piece on the death of Sir John A. Macdonald). But there are some real treasures here, among them Johnson's haunting  "The Legend of Qu'Appelle Valley," and Lampman's "Heat" which conveys, with its alliteration and slow-swinging rhythm, the sleepiness of a summer afternoon. Until now I'd read very little of these poets— aside from Johnson's "The Song my Paddle Sings," which almost everyone reads— but having found their work here, I want to read more.