October 17th, 2015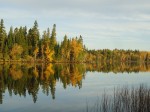 Recently I came across that line by William Wordsworth about poetry having its origin in "emotion recollected in tranquility." It had been so long since I'd read Wordsworth that I couldn't recall the context of that phrase, and suspected that there was a bit more to it.
The quotation is from the Preface to the second edition of Lyrical Ballads, which Wordsworth produced together with Samuel Taylor Coleridge. In the Preface, he talks about his approach to composing poetry, his view of how poetry works, and the language of poetry. This is what he says:
I have said that poetry is the spontaneous overflow of powerful feelings: it takes its origin from emotion recollected in tranquillity: the emotion is contemplated till, by a species of re-action, the tranquillity gradually disappears, and an emotion, kindred to that which was before the subject of contemplation, is gradually produced, and does itself actually exist in the mind.
So really, the tranquility is the beginning of a process, not a resting place. And feeling isn't the whole story, either. Several pages earlier in the preface, Wordsworth says this:
For all good poetry is the spontaneous overflow of powerful feelings: and though this be true, Poems to which any value can be attached were never produced on any variety of subjects but by a man who, being possessed of more than usual organic sensibility, had also thought long and deeply.
Thus, says Wordsworth, the poet's contemplation of feelings and thoughts in relation to each other, continued over time so that it becomes habit, helps him or her to determine what is important, and the resulting poetry will enrich both the feelings and the understanding of the reader.