Wednesday, April 16th, 2014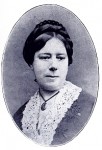 Translating hymns is no small feat. This is what I've concluded after making a first attempt at translating German poetry. Besides conveying the sense of the text, you have to put into metrical form, ideally preserving the meter and rhyme of the original, and do it in a way that sounds good.
So I've really come to appreciate the work of Catherine Winkworth (1827-1878). She was a prolific translator of German chorales, including "Praise to the Lord, the Almighty" and "Now thank we all our God." The accounts of her life that I've found so far are all rather brief, but all state unequivocally that she did more than anyone to bring the German chorale tradition to English-speaking churches, and that her translations are the most widely used of any from the German.
She was an educated woman who, in addition to her translation work, advocated for higher education for women. My guess is that her family was pretty well connected, since, according to one account, it was the German ambassador to England who introduced her to German hymnody. She published her first collection of hymn translations, Lyra Germanica Series 1, in 1854 or '55, when she was still in her twenties. She followed with Series 2 in 1858.